Cosmetic Dermatology in NYC
At Washington Square Dermatology, we pride ourselves in using the newest innovative treatments and techniques in the ever-evolving field of cosmetic dermatology to achieve a natural and youthful appearance for our patients.
Request an Appointment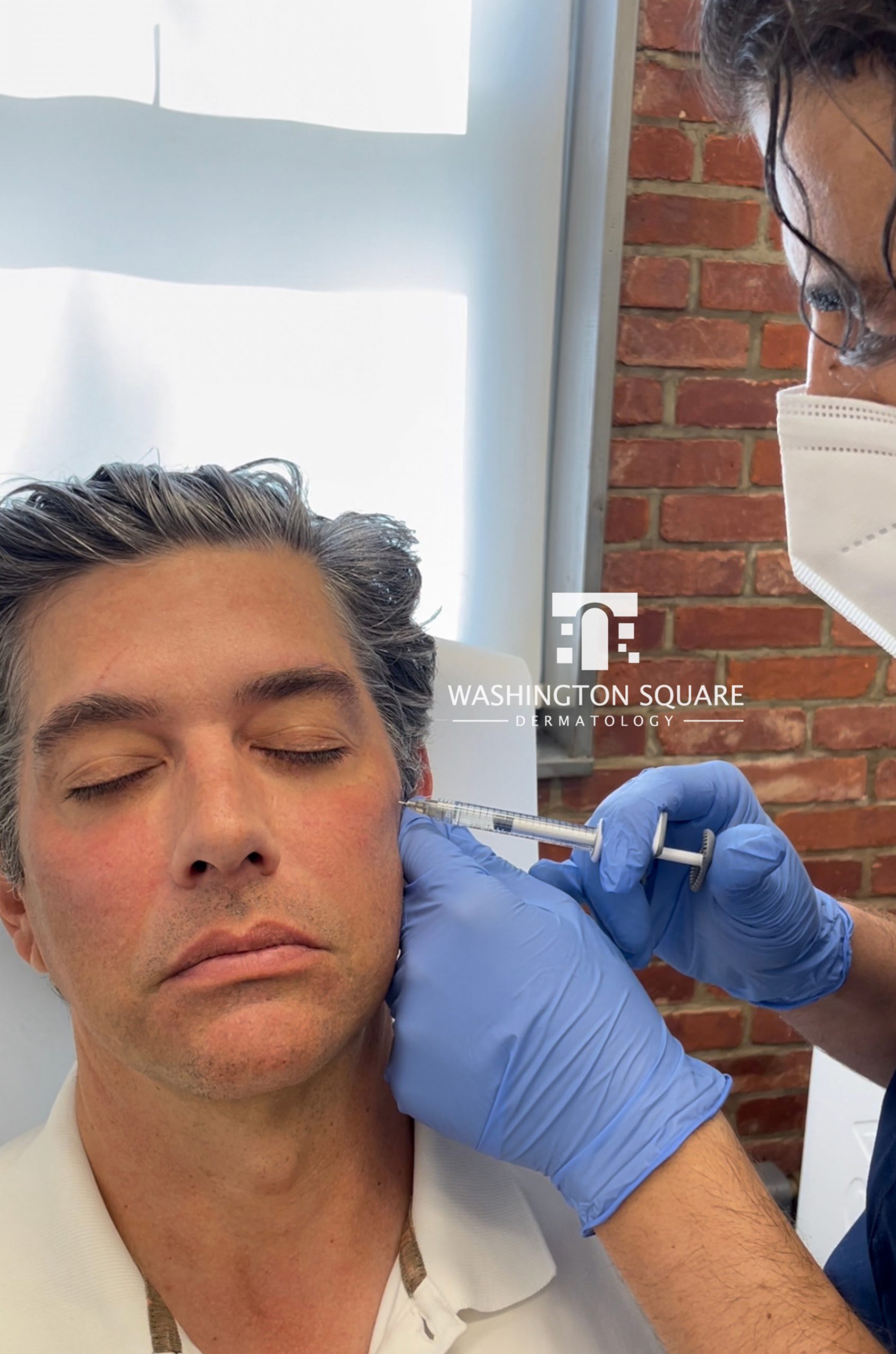 About Our Practice
Our patients come to Washington Square Dermatology to enhance their beauty and achieve a natural rejuvenation; they don't want to look fake our unnatural. Our patients love their natural, refreshed look and often refer their friends and family!
Our providers take the time to thoroughly discuss each patient's goals and expectations before selecting the optimal treatment. The right cosmetic procedure can make a significant impact on how one looks and feels, boosting self-esteem and confidence.
It is so important when selecting your cosmetic treatments to seek knowledgable, experienced, and well-trained providers. At Washington Square Dermatology, all of our treatments are always personally performed by our providers Dr. Samer Jaber, Dr. Michelle Park, and Susanna Franks, PA-C.
Let's Talk
With extensive experience in medical, cosmetic, and laser dermatology, we take the time to thoroughly discuss your concerns and goals before customizing a treatment plan for you.
Request an Appointment
Wrinkles and Fine Lines
While everyone ages differently, we all develop static fine lines and wrinkles over time. Genetics, sun exposure, smoking, and other lifestyle factors all influence skin aging. Advancements in the field of cosmetic dermatology allow us to smooth and improve these fine lines and wrinkles.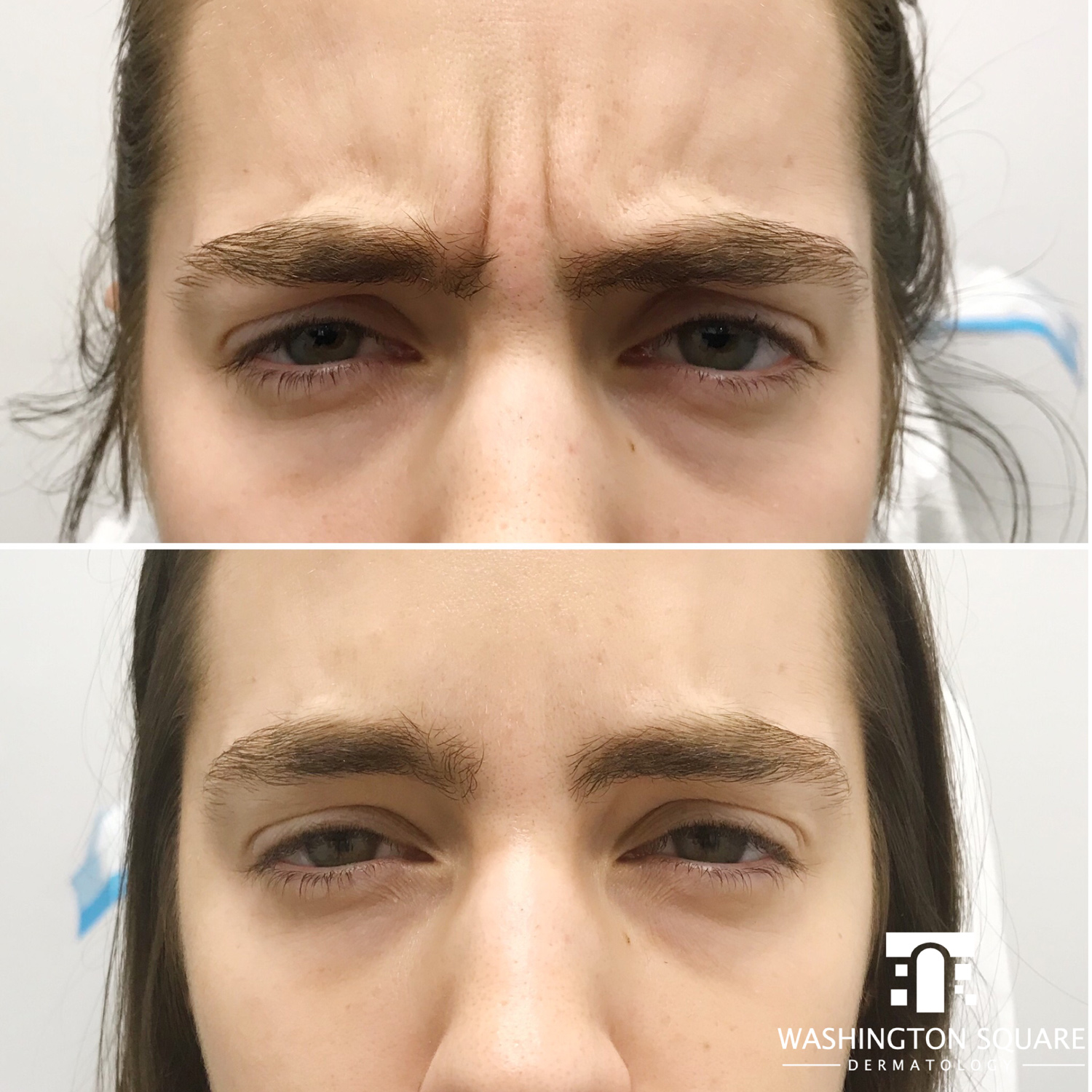 Botox, Dysport, Xeomin, Daxxify and Jeuveau Injections
Wrinkles can be improved in many different ways. Wrinkle-reducing injections like Botox, Dysport, Xeomin, Daxxify, or Jeuveau injections are used to relax facial muscles, which improves the appearance of wrinkles. Learn more about Botox Injections here.
Filler Injections
For deeper wrinkles, filler injections are used to plump the skin and restore lost volume. You can learn more about filler injections here.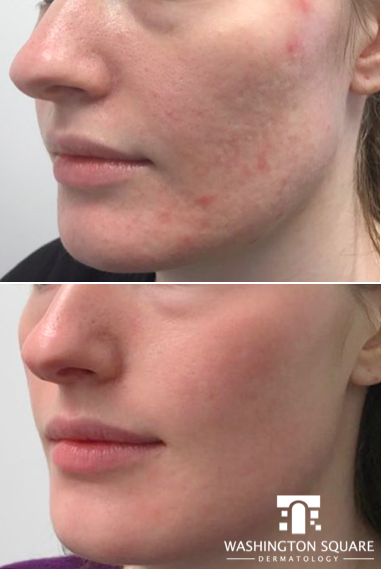 Microneedling and Laser Dermatology
Microneedling is a minimally invasive process in which tiny needles pass over and penetrate the skin, stimulating new collagen production. You can read more about microneedling here.
Injectables may be used in combination with microneedling or resurfacing lasers, like the Clear + Brilliant, Fraxel, and CO2RE lasers to improve fine lines and wrinkles. Please see our page on Laser Dermatology for further information on laser treatment options.
NovaThreads
NovaThreads is an FDA approved procedure using PDO absorbable sutures to lift, tighten and smooth the skin of the face. PDO threads have been used in Europe and Asia for years to improve sagging of the lower face and neck, restore collagen, and improve fine lines and smooth and tighten the skin.
You can learn more about NovaThreads here.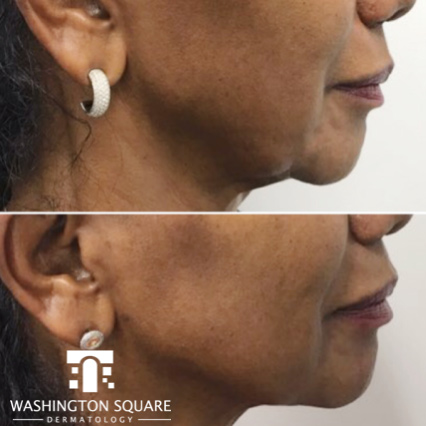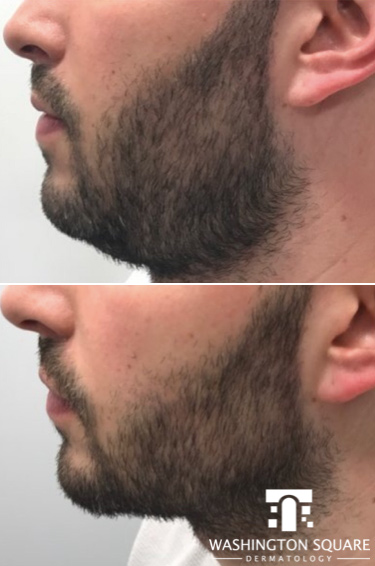 Kybella
Until recently, eliminating unwanted, stubborn fat under the chin and contouring the jaw was only possible with invasive surgical procedures with ample downtime. Kybella is an FDA-approved non-invasive procedure that improves a double chin (submental fullness), helps patients achieve a sharper jawline, and improves the facial profile. You can learn more about Kybella here.
Cosmetic Dermatology for Skin Conditions
We also offer cosmetic treatments that can be used to improve melasma, hyperpigmentation, rosacea or broken capillaries, chemical peels, PRP for hair loss; and remove benign keratoses, cherry angiomas and skin tags.
Melasma
Melasma is persistent, patchy, brown, hyperpigmentation most commonly located on the forehead, cheeks, nose, and upper lip. Melasma is more common in young women and can be triggered by sun exposure and hormonal changes, such as birth control or pregnancy. Vigilant sun protection and prescription lightening creams can be effective treatments for melasma. However, for resistant melasma stronger treatments include the Clear + Brilliant Permea and the Cosmelan peel can be effective.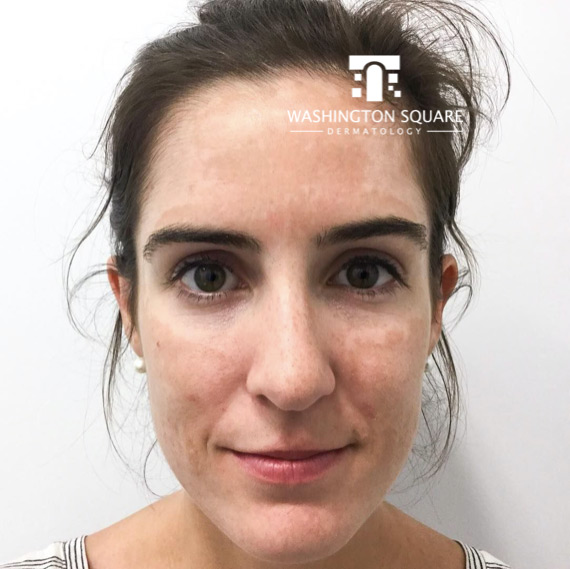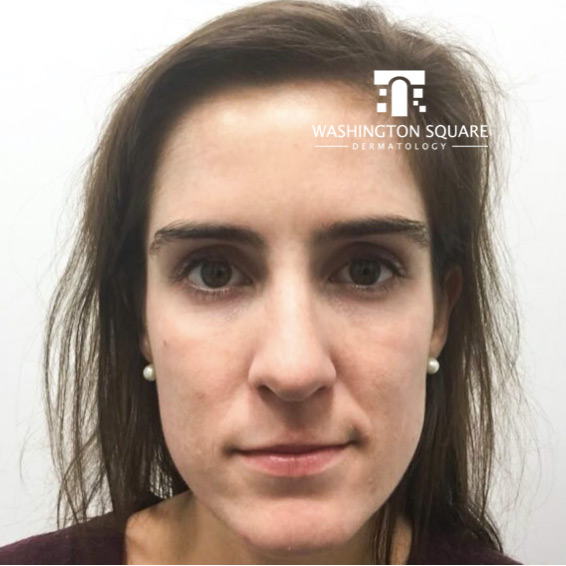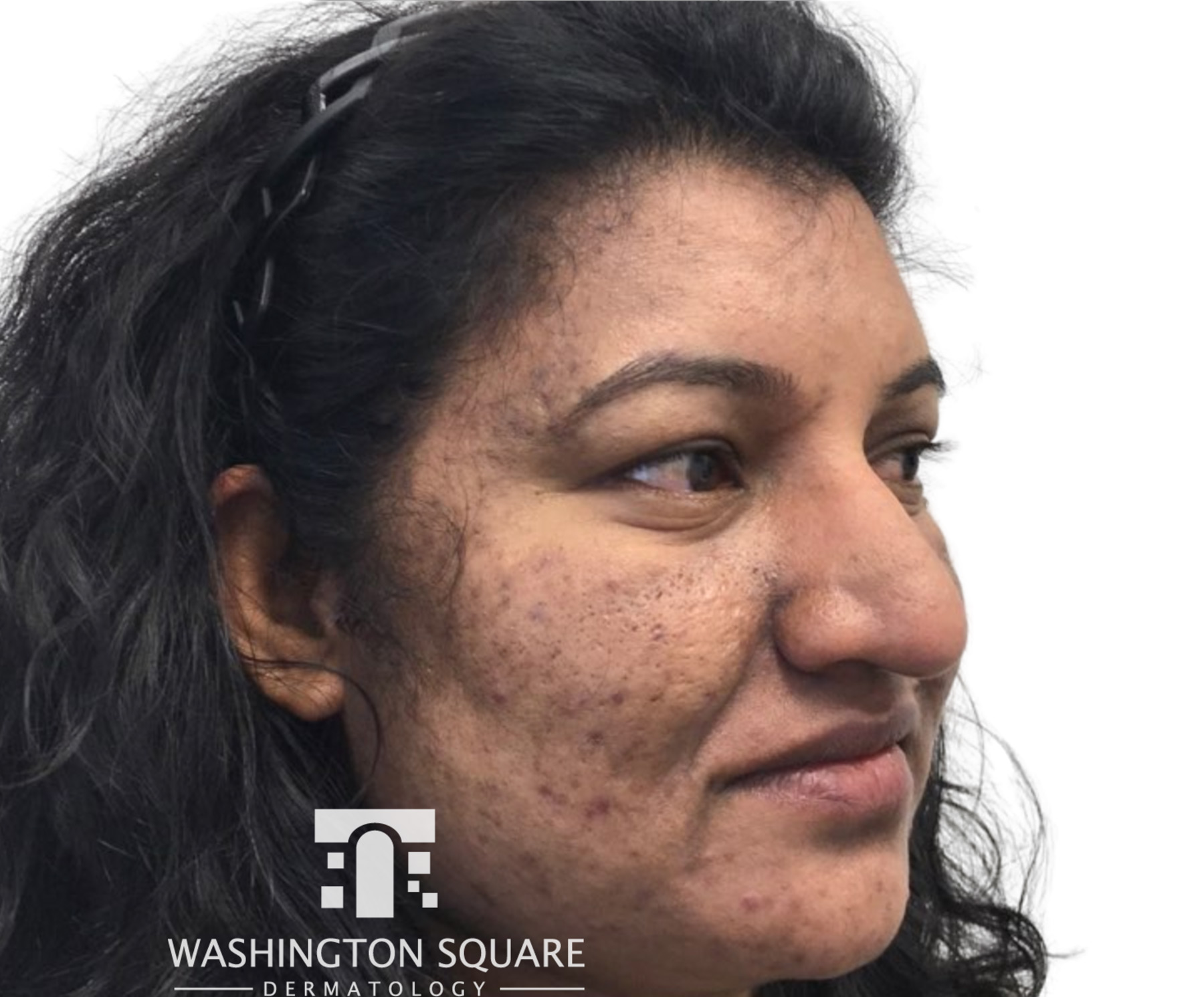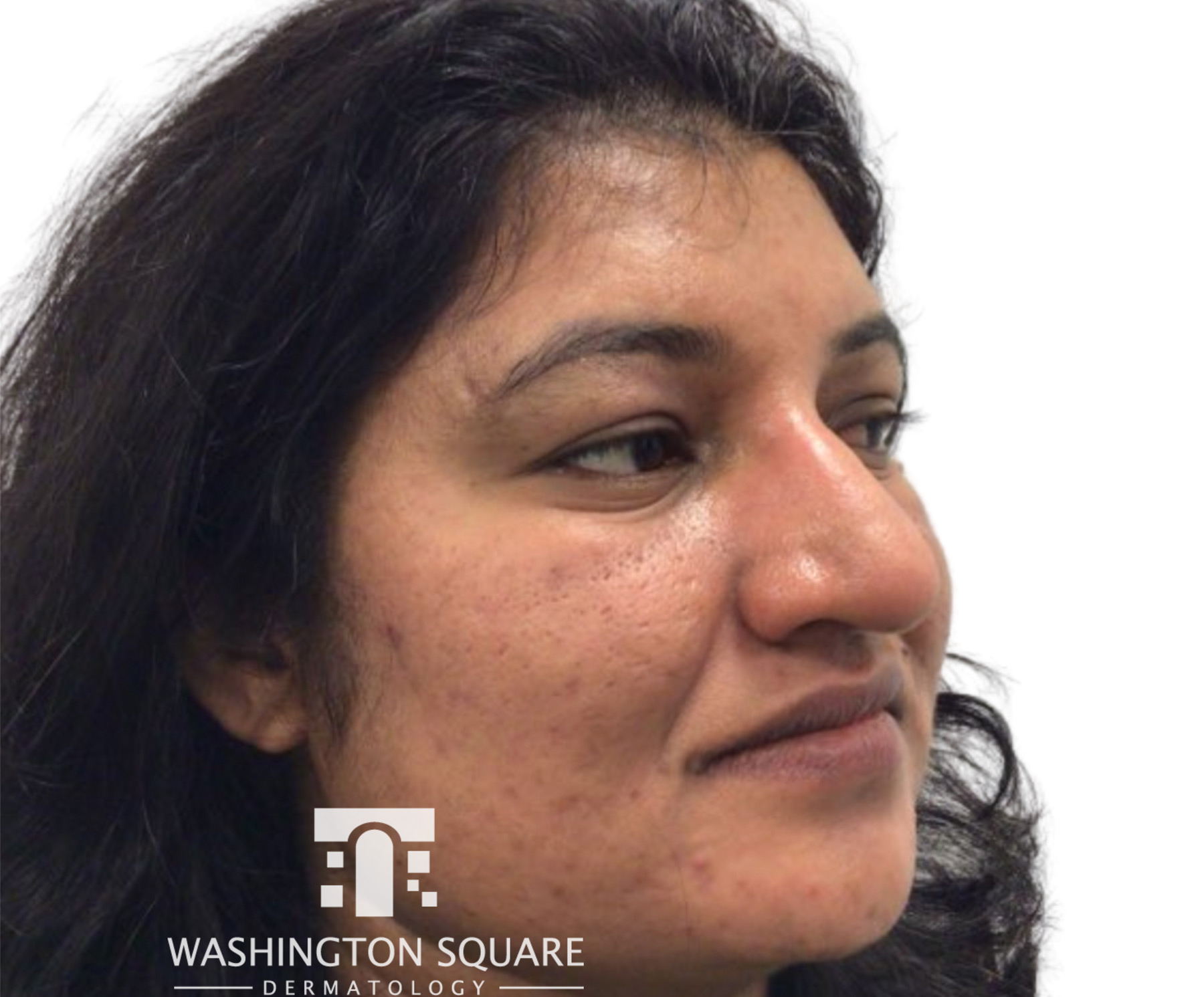 Cosmelan
Hyperpigmentation can be frustrating and can have many triggers including genetics, sun exposure and hormonal changes. Cosmelan can be an excellent treatment for hyperpigmentation of the face. Cosmelan is a powerful depigmenting peel that is applied as a mask comprised of azelaic acid, kojic acid, phytic acid, ascorbic acid, arbutine, and titanium dioxide.
Cosmelan works by correcting and regulating the over production of melanin in melanocytes and inhibits the production of future dark spots. The cosmelan mask is applied in the office and is left on the skin for 8-12 hours. The mask is then washed off and maintenance cream is applied at home by the patient. Patients can have some mild peeling for several days after the procedure.
Clear + Brilliant Permea
The Clear + Brilliant laser is an effective treatment for melasma. Patients notice improved skin appearance, rejuvenation, and a "youthful glow" almost immediately. One twenty minute Clear + Brilliant session can leave skin feeling smoother and younger-looking. Clear + Brilliant may be used on darker complexions, allowing patients of all skin types to enjoy the benefits of Clear + Brilliant. Routine treatments deliver lasting results that can keep patients looking younger for years to come.
For more information on the Clear + Brilliant Permea please see our detailed explanation on Laser Dermatology.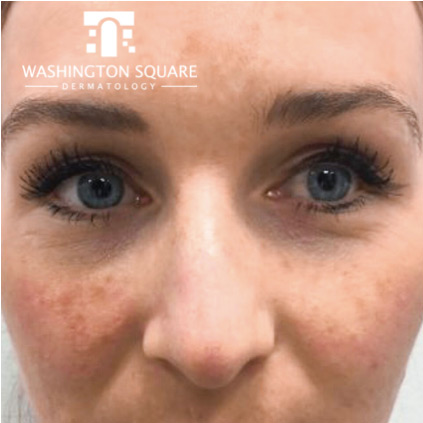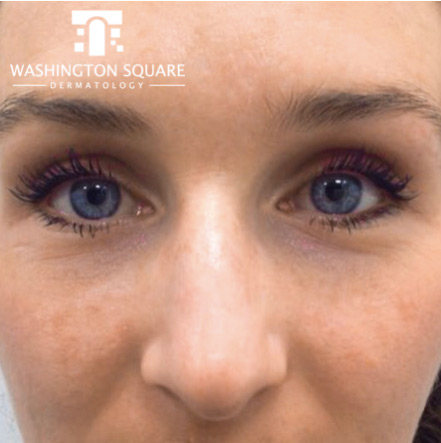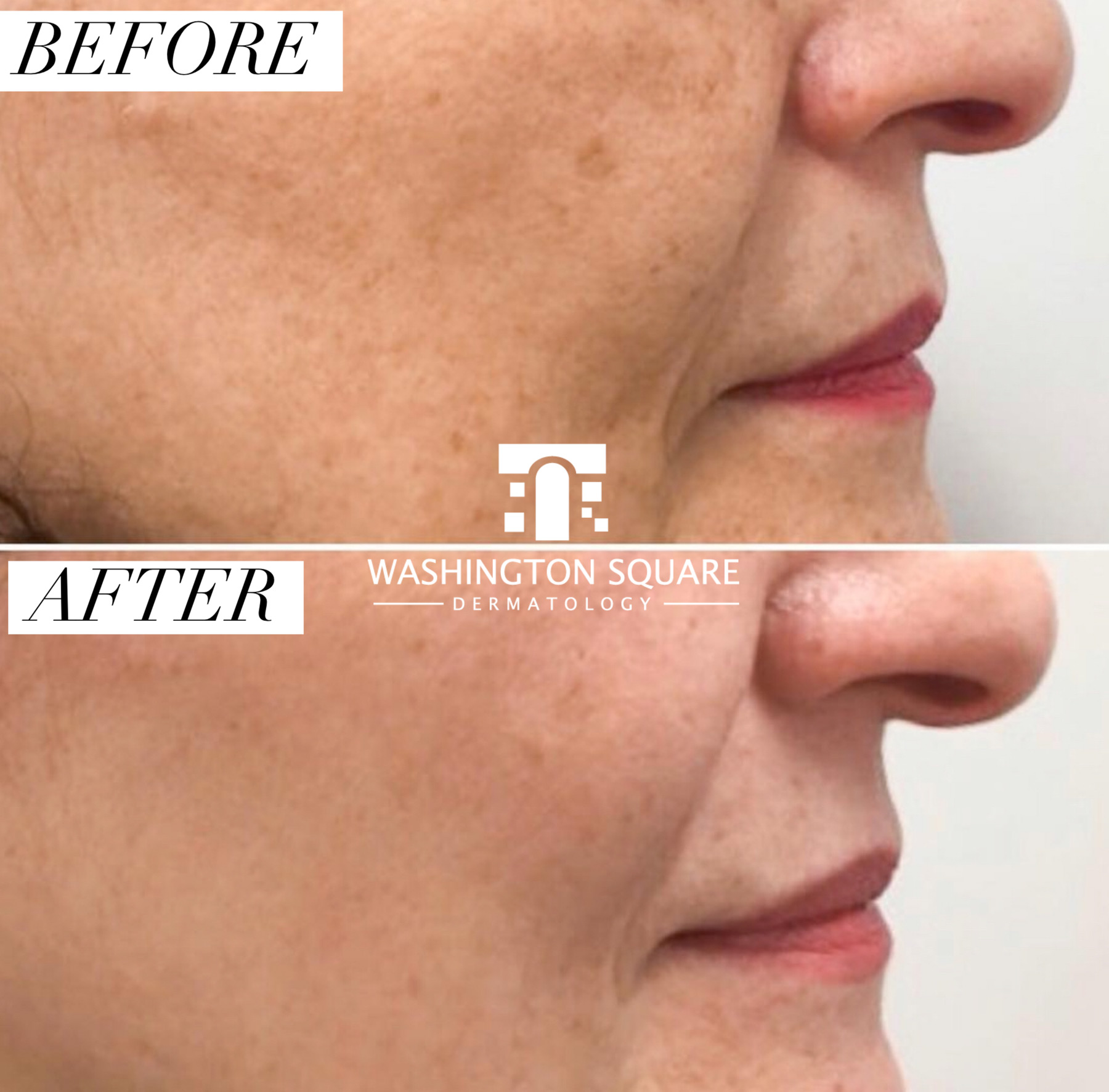 Brown Spots and Sun Spots
Brown spots or lentigenes, also known as sun spots, are more pronounced in areas of sun exposure. Over time, we tend to develop brown spots on the face, chest, and hands. As these spots may make patients appear older than they actually are, some may choose to treat them cosmetically. Lasers such as Clear + Brilliant Permea and Fraxel Dual 1927 can effectively treat large brown areas on the face and chest. Additionally, chemical peels and topical creams can assist in lightening the appearance of smaller brown spots.
See our section on Laser Dermatology on the Fraxel 1927 and Clear + Brilliant for more information.
Rosacea or Broken Capillaries
Rosacea is a common skin condition that affects nearly 16 million Americans and can give patients a "flushed" or sunburned appearance. Rosacea is a chronic condition and is oftentimes triggered by lifestyle factors such as exercising, eating spicy foods, or drinking alcohol. Patients with rosacea often have tiny red spots on the face, otherwise known as telangastia, or broken capillaries.
The KTP Excel V Laser can treat unwanted redness and capillaries associated with rosacea. Often, the KTP Excel V Laser is referred to as a "magic eraser" as patients are able to notice a significant improvement in redness after just one session. However, depending on the location, severity, and size of the area being treated, patients may need more than one session to achieve their desired aesthetic goal. It is common for patients to experience minor swelling or additional redness immediately after a KTP session. This is normal and usually subsides in a few days.
For more information on Excel V KTP please see our link in Laser Dermatology.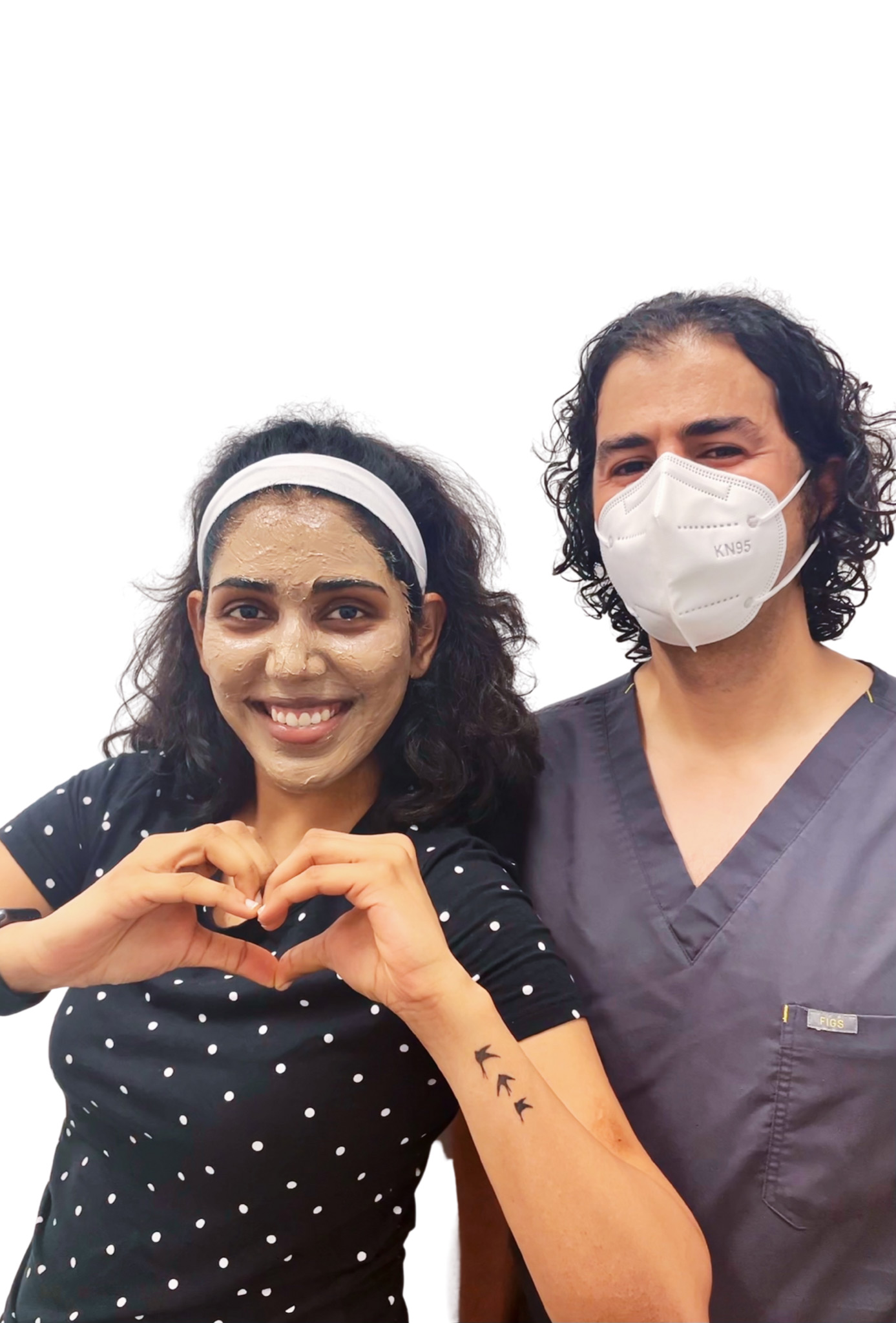 Chemical Peels
Chemical peels are an effective treatment for various skin conditions such as hyperpigmentation, sun spots, melasma, and acne. Chemical peels can also improve overall skin texture, tone, and prevent the signs of aging.
At our office, we prefer to treat melasma with Cosmelan peels, acne with salicylic acid peels, and hyperpigmentation and overall skin texture with glycolic acid peels. For all peels, we generally recommend patients do a series of treatments in order to see optimal results. The amount of treatments needed will depend on each individual patient's needs.
Hyperpigmentation
Hyperpigmentation, more commonly known as darker areas of skin on the face and body, can be treated with various procedures. Depending on the skin tone of each patient, regimens such as prescription lightening creams and sun protection may be used in combination with lasers and chemical peels to improve the overall darkness of the skin. To determine the best treatment with you schedule a cosmetic consultation with one of our providers.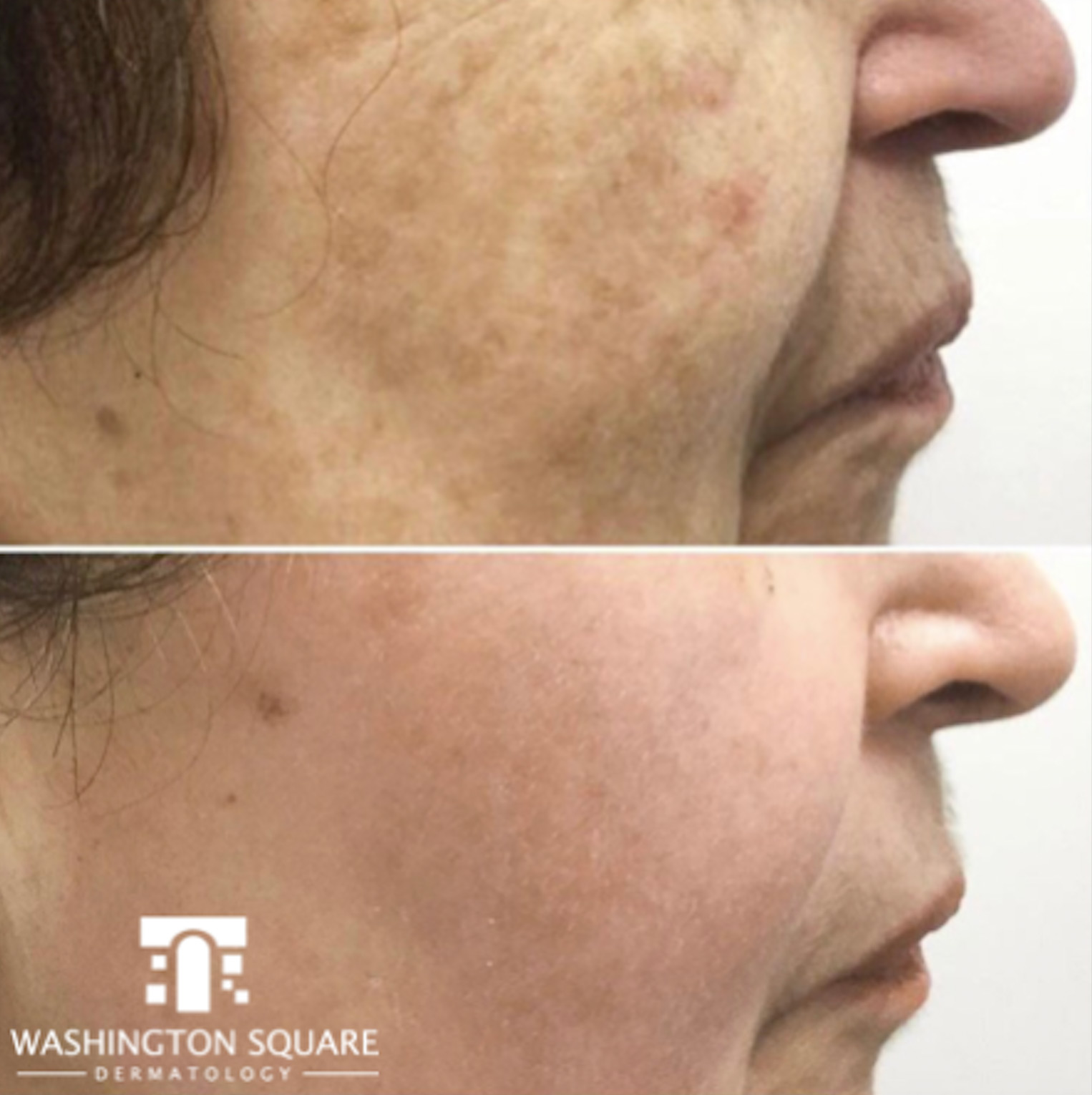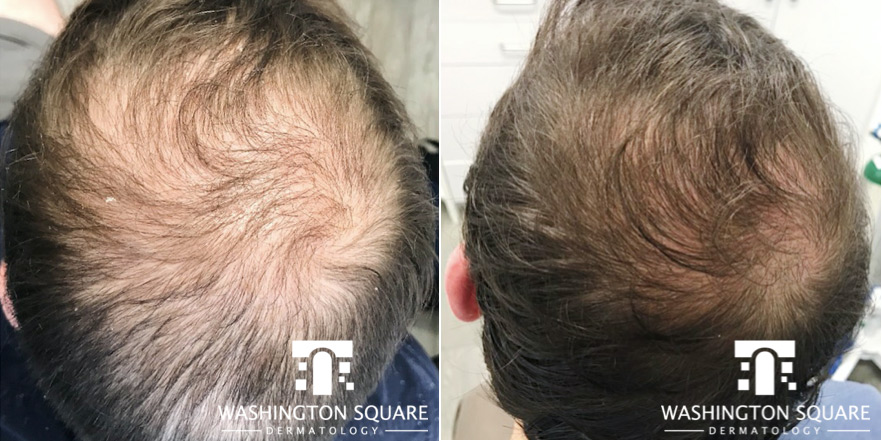 PRP
PRP stands for platelet rich plasma, which contains growth factors and other regenerative and healing cells derived from blood. Patients can expect to come into the office to have their blood drawn. Their blood is then spun in a centrifuge, separating plasma from the red blood cells. The PRP is then used in mainly in two ways: as PRP injections to improve hair loss or PRP used as a glide and injected after microneedling.
For hair loss, PRP is injected directly into the scalp and our providers are able to target injections to specific problem areas discussed with the patient. Usually, a series of treatments are recommended for the best result.
PRP can also be used as a substrate and glide for microneedling. Once the skin is penetrated by the microneedling procedure small channels are produced allowing the growth factors found in PRP to penetrate deeply into the skin. PRP assists in speeding up the recovery process and promotes collagen growth. PRP can also be injected into the skin to improve skin rejuvenation. Patients who are looking to improve their overall skin texture as well as those who are looking to fight the aging process are great candidates for PRP with microneedling.
Seborrheic Keratoses or Dermatosis Papulosa Nigra
Seborrheic keratoses or Dermatosis Papulosa Nigra are brown, benign growths that can develop on the face, neck, and body as we age. These growths are extremely common and and often affect multiple family members. Although these growths are not cancerous, they can be irritating and unsightly and patients may choose to have them removed cosmetically. Depending on the size and location, electrosurgery or cryosurgery are common cosmetic removal options and require little-to-no down time.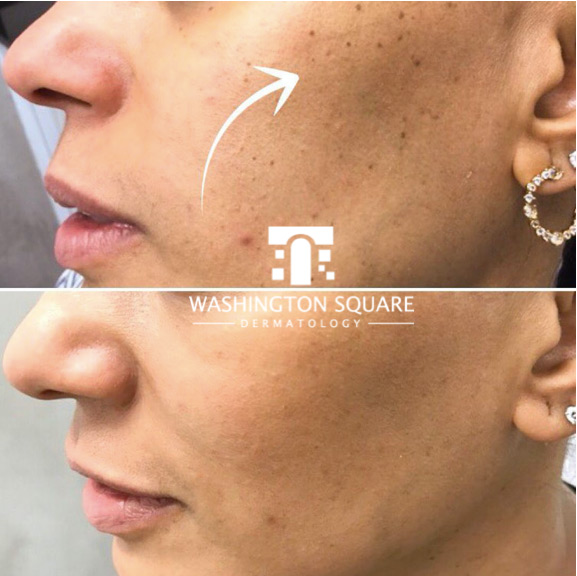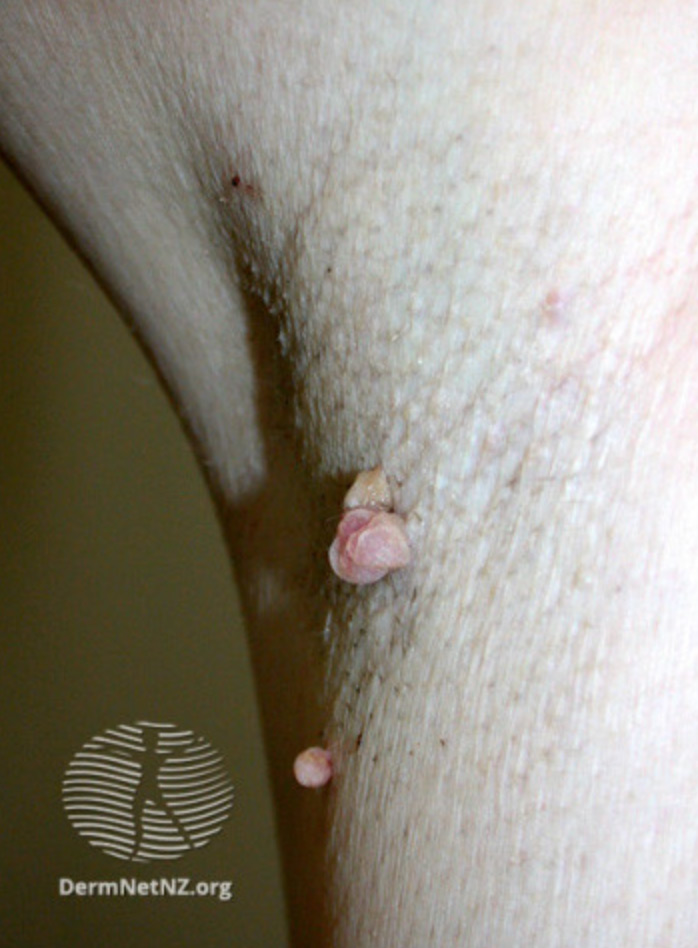 Skin Tags
Skin tags are very common and can be physically bothersome and cosmetically displeasing. Depending on the size and the location of the skin tag, they can be removed by cryosurgery, electrodessication, or simply by snip removal.
Cherry Angiomas
Cherry angiomas are very common red dots that are primarily found on the trunk. They are not cancerous but many patients find them unsightly. We can remove them with the Excel V laser.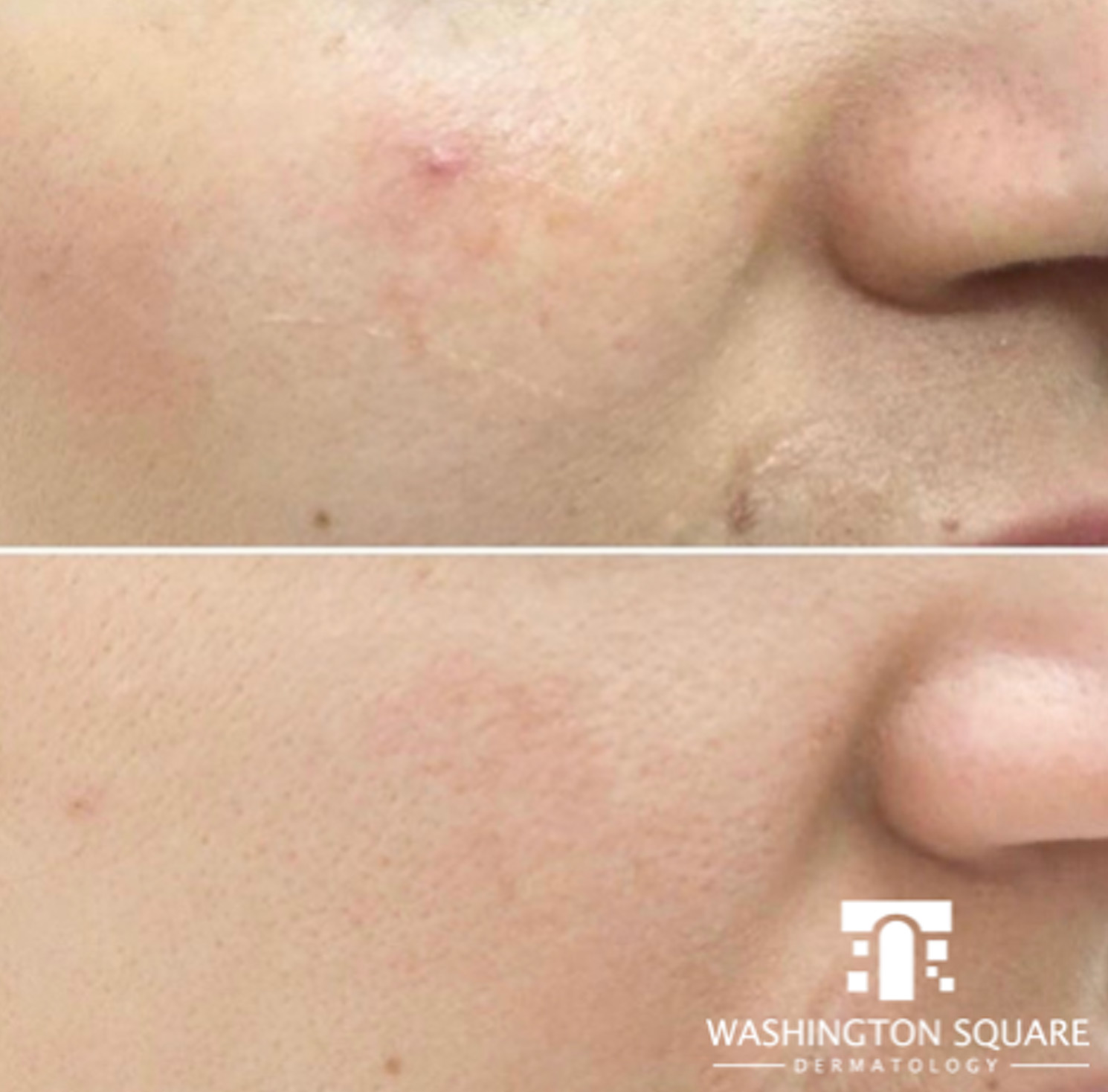 Frequently Asked Questions
About Cosmetic Dermatology
I have heard bruising can happen after botox or filler, is there anything I can do to decrease the risk?
Bruising can happen from any injection on the face as there are many small blood vessels on the face. Bruising can occur from botox and filler injections (particularly when injecting the lips and under-eyes). The risk of bruising can be minimized by avoiding medications that thin the blood like alcohol, aspirin, ibuprofen (Aleve, Motrin, Advil) and Vitamin E for several days prior to treatment. Tylenol does not increase the risk of bruising. Arnica is an OTC supplement that can be used to minimize bruising.
How do I get ready for a laser treatment?
For most laser treatments (except Ultherapy) it is very important to not be tan prior to treatment. Please avoid any significant sun exposure for several weeks after your laser treatment. Stop any irritating products like retinol or acids several days prior to your treatment.
When should I come in prior to my wedding to have a consultation and potential cosmetic treatment?
We recommend our patients come in at least 6 month prior to their wedding to start their pre-wedding skin treatment plan. You DO NOT want to try a new cosmetic treatment a few weeks prior to your wedding in case you have an adverse reaction. If you have acne scars, then starting your treatments 1 year in advance is preferable as acne scars can take time to see improvement.