Skin Cancer Screenings in NYC
At Washington Square Dermatology, our expert providers Dr. Samer Jaber, Dr. Michelle Park, and Susanna Franks, PA-C provide skin cancer screenings for patients of all ages and skin types.
Request an Appointment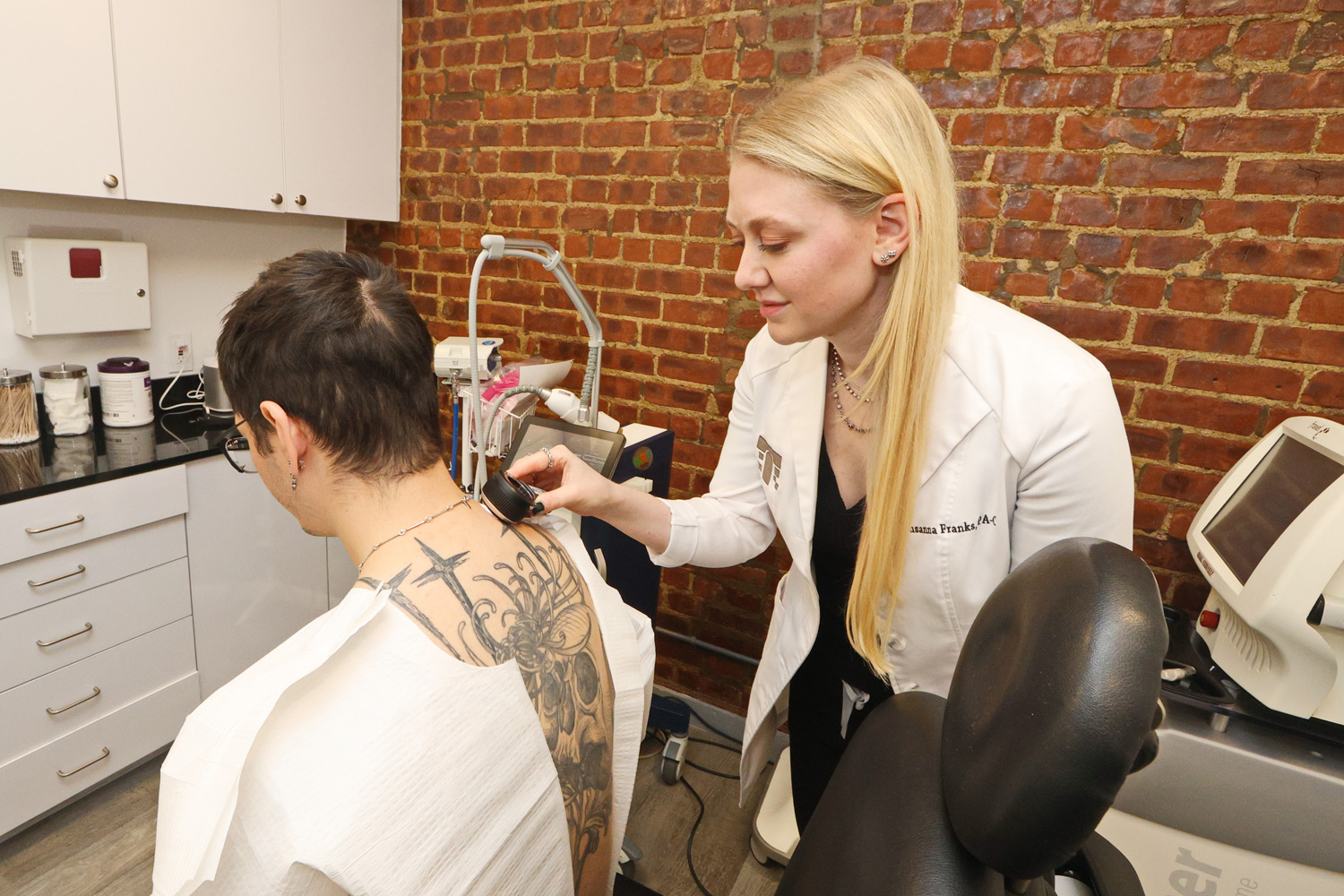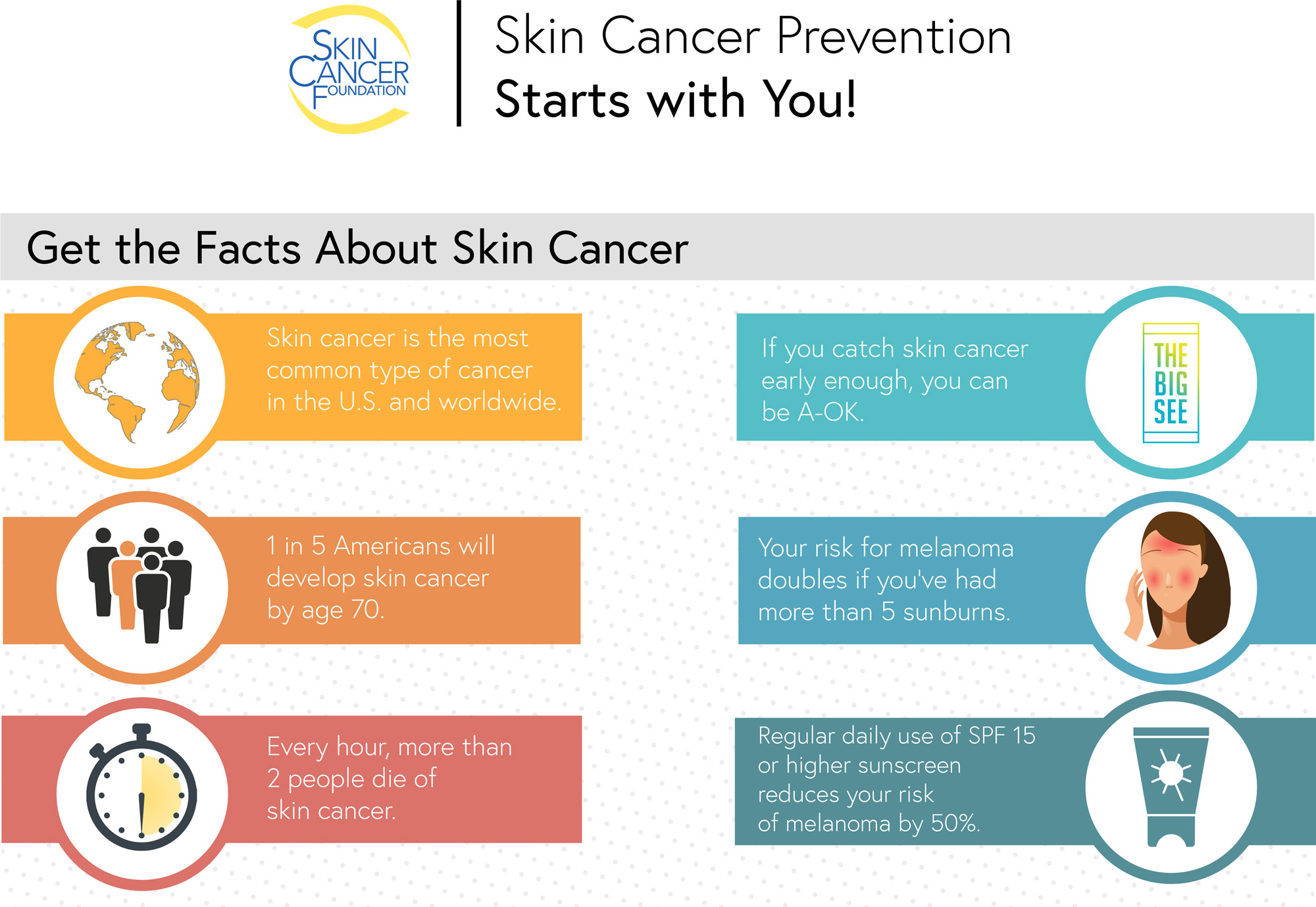 Image Credit: The Skin Cancer Foundation. For more information, visit SkinCancer.org.
Did you know a skin check could save your life?
Skin cancer is the most common cancer in the United States and worldwide. It can affect anyone, regardless of skin color.
More people are diagnosed with skin cancer each year in the US than all other cancers combined; more than 9,500 people are diagnosed with skin cancer every day.
Let's Talk
With extensive experience in medical, cosmetic, and laser dermatology, we take the time to thoroughly discuss your concerns and goals before customizing a treatment plan for you.
Request an Appointment
One in five Americans will develop skin cancer in their lifetime.
Although more than two people die of skin cancer every hour in the United States, most skin cancer is highly treatable. This highlights the importance of regular full body skin exams with a dermatologist and monthly home self skin exams as skin cancer can grow rapidly.
What is skin cancer?
Skin cancer is an abnormal growth of skin cells. This is caused by DNA damage which leads to mutations. These mutations promote rapid proliferation of skin cells and the formation of cancerous malignant growths. The most common types of skin cancer are basal cell carcinoma, squamous cell carcinoma, and melanoma.
Basal and squamous cell carcinomas are more commonly found in areas of sun exposure and often present as red scaly patches or bumps that scab, bleed or do not heal. Melanoma is the most serious type of skin cancer and can present as a changing, dark brown or black mole with an irregular, shape, border or color.
Who can develop skin cancer?
Anyone can develop skin cancer, regardless of skin color. Some factors which can increase the risk for developing skin cancer include indoor tanning, sunburns, genetics, family history, unprotected exposure to sunlight, atypical moles, and organ transplant.
Frequently Asked Questions About Skin Cancer
What should I do to prepare for a skin cancer screening?
Before your appointment, please perform a self skin exam and make note of any new, changing, or unusual spots to point out to your provider during your screening.
On the day of your appointment, please remove any makeup, hair clips/pins, and fingernail/toenail polish so that your face, scalp, and nails can be completely evaluated.
When you arrive for your skin cancer screening appointment, a medical assistant will guide you to an exam room where they will take notes of any particular concerning spots you'd like to point out. They will then exit the room, giving you privacy to change into a disposable gown.
After you have changed, your provider will enter the exam room accompanied by the medical assistant to commence your screening. The provider will use a special tool called a dermatoscope, which provides epiluminescence microscopy, for enhanced visualization of spots on your skin.
What happens if an abnormal spot is found on my skin cancer screening?
If your provider locates an unusual spot during your skin cancer screening, they will recommend a skin biopsy.
A skin biopsy is a sample of skin which can be gently obtained during your office visit. The suspicious spot is cleansed with a disinfecting solution prior to gentle injection with a local numbing medication to the site. Your provider will then skillfully obtain the skin sample and send it to a laboratory for in-depth evaluation by a dermatopathologist, a physician who specializes in the evaluation of skin samples.
Where can I learn more about Skin Cancer?
For more information about skin cancer, please go to SkinCancer.org.